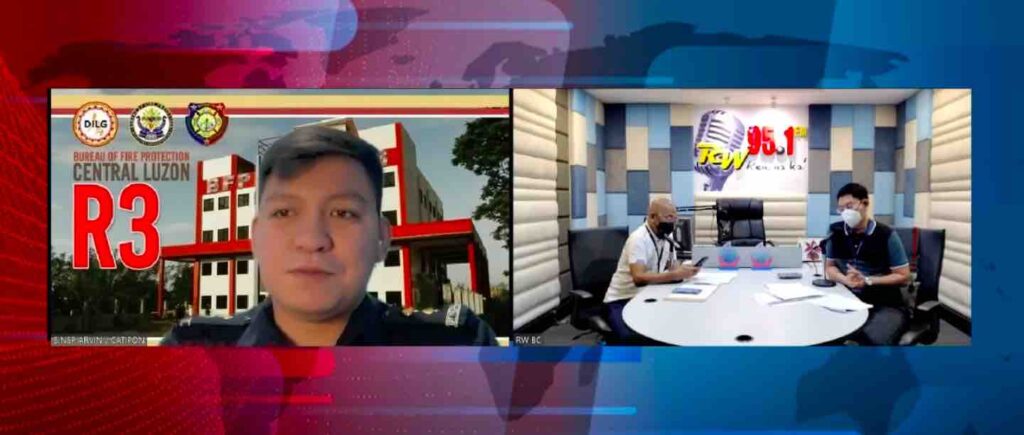 CITY OF SAN FERNANDO, Pampanga — Bureau of Fire Protection (BFP) reminded Central Luzon residents to observe fire safety measures to prevent fire incidents.
BFP Public Information Services Regional Chief Senior Inspector Arvin Catipon shared that the most common cause of fire is unattended electrical connections caused by octopus wiring and overloading.
"Some wirings or extensions that did not pass the DTI [Department of Trade and Industry] standards are fast to overheat and overload," he said.
He advised the consumers to choose electrical units with the Philippine Standard (PS) Quality and/or Safety Mark and Import Commodity Clearance (ICC) stickers to assure that what they purchase are of good quality and safe.
In addition, BFP said another leading cause of fire among appliances and equipment at home are the liquefied petroleum gas (LPG) which are prone to accidental leakage and explosion.
Catipon said that the public should check these units frequently and make sure that the bottom part of the tank is not disintegrating, and the gas hose and regulator are not leaking.
The agency warned the public that they are not authorizing anyone selling or distributing LPG products amid reported cases of this illegal operation.
He said they are not also selling or endorsing manufacturers of fire extinguishers.
Meanwhile, BFP is conducting fire prevention activities all year round including the Community Fire Protection Planning where city or municipal fire stations coordinate with the concerned local government units to determine vulnerable barangays to undergo planning process for fire protection.
 "We have the Kaisa Partnership Campaign where we collaborate with the business sectors to be one of our fire safety partners. We are intensifying this for this month, where we are issuing the Kaisa Star Seal in accordance with the Kaisa Program guidelines of the national office," Catipon furthered.
The officer said they also carry out the Oplan Ligtas Pamayanan on the road covering all barangays in the areas of responsibility of city or municipal fire stations where BFP personnel give public addresses regarding fire safety to all vulnerable areas.
"We assure our country, and the whole Central Luzon region that we will continue to do our duty to our community by ensuring that the residents are safe and secure from fires and any forms of man-made and natural disasters," Catipon stated.
The month of March is celebrated as the Fire Prevention Month by virtue of Presidential Proclamation No. 115-A, with this year's theme "Sa Pag-iwas sa Sunog Hindi Ka Nag-iisa".
SOURCE: Jag Lyra D. Costamero (PIA3)