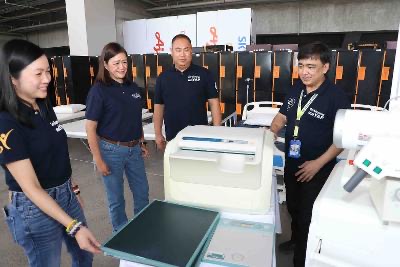 TARLAC CITY (PIA) — Bases Conversion and Development Authority (BCDA) donated over 180 medical equipment to the Tarlac Provincial Hospital (TPH). 
As part of BCDA's corporate social responsibility program for its project-affected communities, TPH received hospital beds, bunk beds, mattresses, pillows, and a medical x-ray machine. 
In a statement, BCDA President and Chief Executive Officer Joshua Bingcang said that this initiative seeks to augment the facilities of the provincial hospital, and to ensure quality healthcare services access for all Tarlaqueños. 
"We at BCDA are committed to improve the quality of life of the communities that we develop through the conversion of former military bases and other properties into premier sustainable centers of economic growth. We hope that these equipment will help Tarlac strengthen its health system and be able to better respond to its constituents' medical needs," he stressed. 
For her part, Governor Susan Yap thanked BCDA for its support to further improve the health care system of the province. 
"The provincial government of Tarlac is grateful for the generous support from the BCDA in delivering critically needed medical equipment to those who need it most. We hope this donation will go a long way towards saving lives at our provincial hospital. We truly appreciate BCDA's support for our community and we are looking forward to the growth that New Clark City (NCC) will bring to our region," she furthered. 
Tarlac serves as a home to BCDA's flagship project, the 9,450-hectare NCC, in the municipality of Capas. 
It is a greenfield development positioned to be an inclusive, resilient, sustainable, and smart city.
SOURCE: Trixie Joy B. Manalili PIA3