ANGELES CITY — Janelle Lewis of Barangay Cutcut was crowned as the first-ever Reyna De Las Flores, hosted by the city government under the administration of Mayor Carmelo "Pogi" Lazatin, Jr. held on May 20, 2023.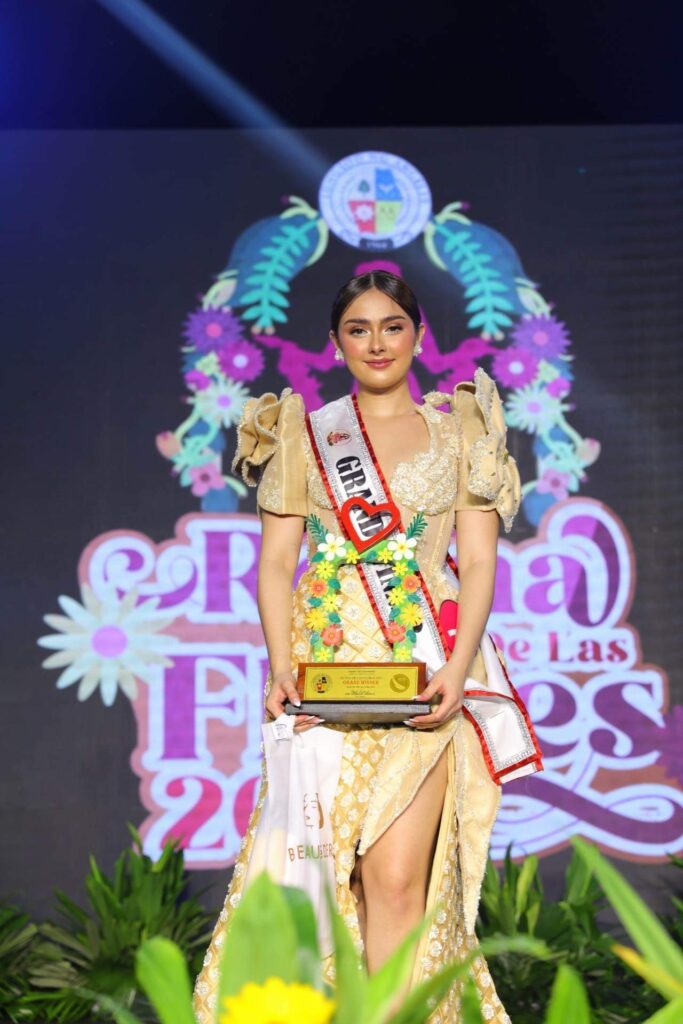 Lewis took home a cash prize of ₱100,000 while Cassandra Alethea Merritt of Barangay Pandan and Samantha Grace Pinto of Barangay Tabun were awarded as Queen of Flowers 1st and 2nd Runners-up, respectively.
The best Filipiniana gown design with ₱20,000 cash prize and best arch with ₱50,000 cash prize were awarded to Merritt of Barangay Pandan and Arch Designer Ejay Ramos of Barangay Anunas, respectively.
For the category of Best Arch, Barangays Lourdes Sur and Tabun won the 1st and 2nd Runners-up, respectively.
For the Mayor Pogi Lazatin's Special Awards — Anne Marie Suarez of Barangay Ninoy Aquino took home P8,000 for the category of Queen of Flowers while Arch Designer Verano Santos Conese of Barangay Pandan received P10,000.
Non-winners received a consolation prize of P10,000 for Reyna De Las Flores and P5,000 for the Best Arch.
Also joining also the ladies in the famous 'Santacruzan' parade is Joanne Marie Thornley, Mutya Ning Angeles 2022, who wore a gown created by Frederick Policarpio.
Mayor Lazatin said that commemorating the festival served as an avenue for Angeleños to showcase their prowess in designing local garments as well as to promote the flower industry of the city.
The event, aimed to promote Gawang Angeleño, featured the creations of local designers worn by the ladies including Carl John Miranda, Rich Sabinian, Rhea Choy Maglalang, Jhaymer Lui, Aira Kleng Kawazaki, Joseph Carpio, Argie Desoyo, Ryan Manansala, Santino Rivera, Ralph Roden Pineda, Rakie Alfaro, Rosvan Sicat, Arnold Pangilinan, and Frederick Policarpio.
"We recognize our local talents and skills, that is why we continue to uplift them by providing programs which will put them in the spotlight and gain advantages, Lazatin said.
For his part, Pampanga First District Representative Carmelo "Jon" Lazatin II, who was also present during the celebration, congratulated all the participating barangays, for their efforts that were vital to the success of the event.
Serving as the Working Committee for the said inter-barangay contest led by Lazatin's Chief Adviser IC Calaguas and Executive Assistant IV Reina Manuel are Angeles City Tourism Office headed by Anneleen Antonio-Sugui, Angeles City Economic Development Investment and Promotions Office led by Irish Bonus-Llego, Gender and Development Office headed by Mina Cabiles, City Nutrition Office led by Jermaine Jam Aguila, Sharmaine Vianne Gonzales and Rachelle Oloya of Mayor's Office, Angeles City Tourism Auxiliary headed by Michael Lising, Angeles City Traffic Development Office headed by Francis Pangilinan, Angeles City Police Office, and organizer Rommel 'Poklong' Guina.
Also present during the event were Department of Tourism Region III Director Dr. Richard Daenos, and guest judges Department of the Interior and Local Government Angeles City Director Yvette Cosio, Fashion Designer JC Buendia, Pampanga Provincial Tourism Officer Randy Del Rosario, Celebrity Fashion Stylist Jemi Nicdao and Musician Andy Alviz.
"We are making it to the challenge of preserving our heritage. We also need to take care of our shared heritage. Kaya masaya ku pu keng gagawan na ning Angeles City Government keng turismo at kultura. Makakaasa po kayo na ang Department of Tourism Region 3 ay ibibigay ang 100 percent na suporta sa Angeles City in terms of uplifting arts and culture," Dr. Daenos said.