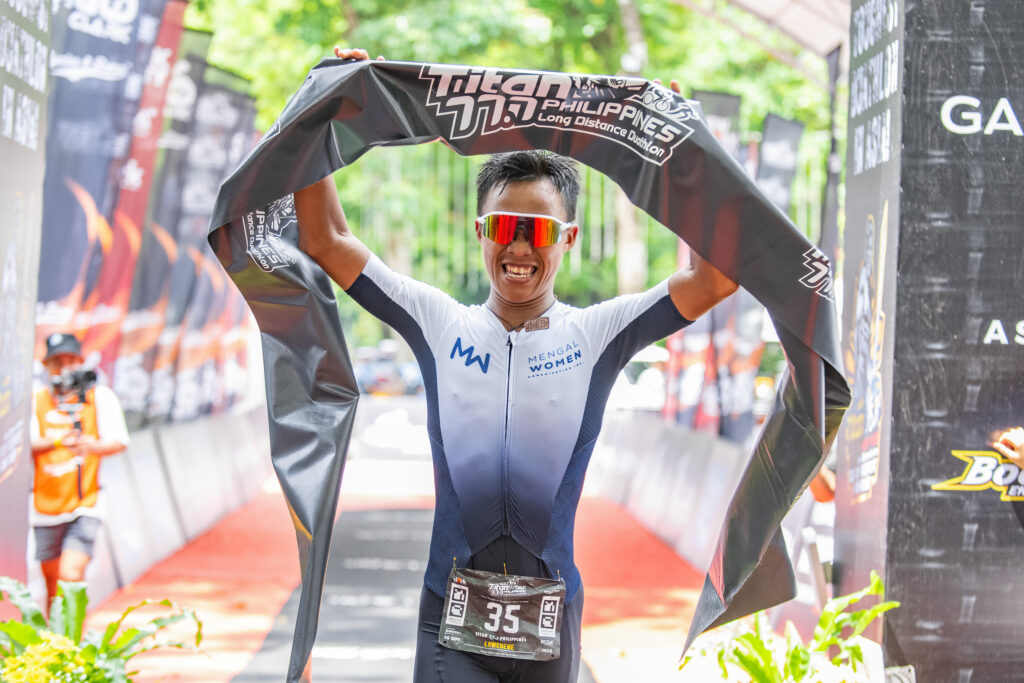 CLARK FREEPORT, Philippines –  Amidst the threat of heavy rain the past few weeks in Clark, a glorious morning sun casting a golden hue provided the perfect backdrop and weather in Clark Freeport as more than 500 athletes coming from all over the Philippines exhibited grit and physical prowess in the 2023 Titan 77.7 Philippines Duathlon.
Twenty-four-year-old Lowegene Aliligay, a college student from Isabela, came out with the standout and inspiring story of the day as he topped the field of more than 300 Titan 77.7 category participants.
The Titan 77.7 Category consists of a 4km run, a 100km bike ride and a finishing 21km run. Aliligay finished with the race-best time of 4:45:49, despite cramping up in the last two kilometers due to lack of nutrition.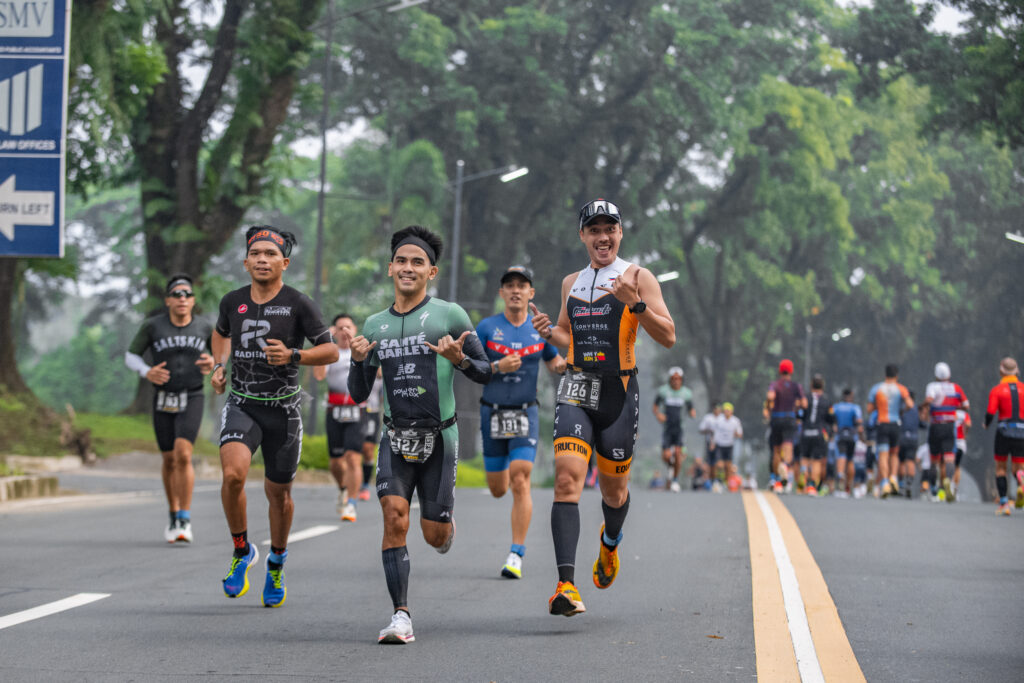 "Nagkulang ako ng kinain, so nung last 2 kilometers medyo nahilo na ako at nag-ka cramps na. Buti na lang at nagka energy pang tumakbo nung makita ko ang mga tao sa finish line (My nutrition was lacking so I felt dizzy and cramped up a bit in the last two kilometers. I was fortunate to have energy to run when I saw the crowd at the finish line)", said Aliligay.
Rhia Stawicki captured her second Titan 77.7 title, despite a short training period. Stawicki finished with the women's best time of 5:23:07. "The bike course this year was different and is harder than last year's course. With more than a thousand meters in elevation, there were lots of up and down in this bike ride, so yeah, it is not the toughest duathlon race in Asia for nothing. I thrive and love pain and I wanna say congratulations to all the finishers who toughened it up and showed grit!'' added Stawicki.
Reagan Nabua came out on top of the competitive 35-39 men's age group and was also the first age group finisher. Coach Don Velasco grabbed second in the age group and additionally was also the second age group finisher.
Aside from Aliligay, Nabua and Velasco were the only participants to go sub-5 hours finishing in 4:54:46 and 4:59:41 respectively. Prago Collins (18- 24 Men's AG) from Pangasinan was the third overall age grouper by finishing in 5:00:55.
To further prove that the 35-39 men's age group was stacked competitively, Luigi Robles was 3rd in the age group and was the 4th overall age grouper with a 5:07:57 finish. The winners of the three women's age group surprisingly were also the fastest overall age groupers. 30-39 age champion Kath Lagunsad was first female age group finisher with a time of 5:52:42.
Capas, Tarlac native Kristine Berneth Drueco Bugna was 18-29 champion and was second overall age group finisher and 40 and above age group winner Patricia Anne Castillo was the third overall age group finisher with a finish time of 6:12:26.
Clark Development Corporation Vice Presidents Jose Miguel Dela Rosa (Finance) and Retired General Lina Castillo Sarmiento (Security) were in attendance to give the welcome remarks and inspirational messages to the Titan duathletes.
"Clark is the perfect place for a big duathlon event like Titan, with its bike-friendly infrastructure complemented by its lush greenery and wide canopy of years-old acacia trees. Welcome to Clark and we hope you enjoy training and racing here," said Dela Rosa. "I was a marathoner before, so I know how hard it is to prepare for an endurance race like Titan.
There is this feeling that mentally, you will not quit even if physically you are in pain already. That is the stage when you show your grit and you grow stronger as an individual," added Sarmiento.
Race Director Jumbo Tayag commented: "The Titan 77.7 Philippines solidifies its claim as the toughest duathlon in Asia, the century bike ride with its thousand-meter elevation course, you need to seriously prepare for it. As the race director I am happy everyone came home safe, and they went home feeling proud and relishing glory as only a tough long-distance event like Titan 77.7 can give. We hope to see you again next year for another iconic Titan 77.7 event."