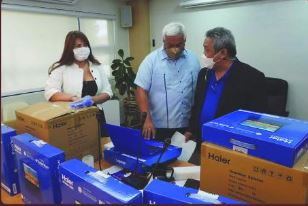 ANGELES CITY–The city government here under the leadership of Mayor Carmelo "Pogi" Lazatin, Jr. will use P450 million of its annual budget to procure equipment for health care and education and social services.
Mayor Lazatin asserted this during his State of the City Address (SOCA) on Thursday, June 29, 2023.
"70,000 patients a year are admitted and treated in RLMMC that is why it is imperative to improve its services and equipment," Lazatin remarked.
P200 million will be allocated for purchasing medical apparatus to be installed in the soon to rise Rafael Lazatin Memorial Medical Center (RLMMC); P50 million worth of equipment for to be deployed in Primary health care unite throughout the city; and P50 million allocation medicine and vitamins for senior citizens
State-of-the-art computer laboratories will also be established in all 54 public schools in Angeles City as Lazatin affirmed in his SOCA.
"Our administration will be allocating a total of P200 million pesos to establish state-of-the-art computer laboratories," Lazatin cited
"This is to equip our students with the needed skills in technology and to make our children globally-competitive," he added.
Meanwhile, Lazatin also indicated in his SOCA that some P50 million will be allotted for the construction and equipment for the city's Kanlungan ng Kabataan.
This shall serve as a temporary shelter for homeless families, and mentally-challenged individuals.
"It is my vision to make this center a showcase of our genuine love and care to the abandoned members of our society," Lazatin said.