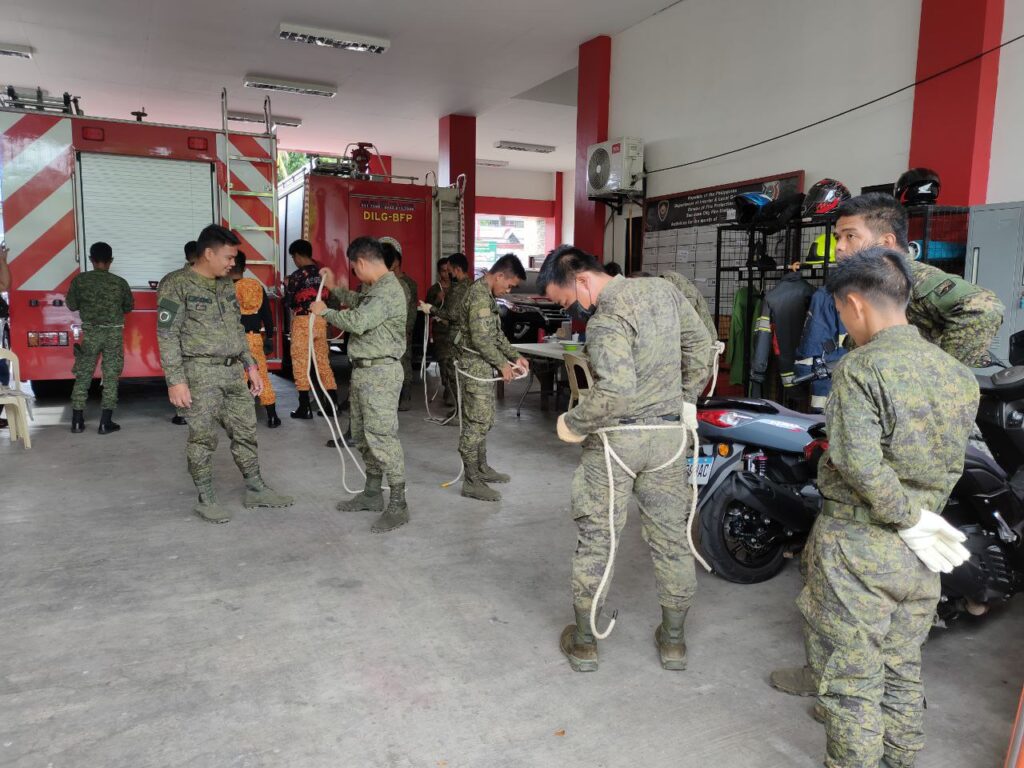 FORT MAGSAYSAY, Nueva Ecija – In a bid to increase disaster preparedness and enhance skills for rescue operations especially during the rainy season, a number of uniformed personnel concluded a 5-day Disaster Response and Rescue Operation Training (DRRO) on July 1, 2022 at Headquarters 84th Infantry (Victorious) Battalion, Camp Gatan, San Jose City, Nueva Ecija. 
The training aimed to develop and train the sense of confidence and skills during disaster response operations for selected troops of 84th IB along with Philippine National Police (PNP) and Bureau of Fire Protection (BFP) of San Jose City, Nueva Ecija. 
The training program includes; responding to landslide or Earthquake incidents, Basic rescue knot tying, Swift water rescue, Defensive swimming, and river crossing.
Mr Ferdinand Vergara, LDRRMO-II as the guest lecturer during the training said that, "In times of disaster and emergencies, we will have a sense of oneness to respond, because we are able to conduct this training together." 
According to 2nd Lieutenant Calde Thomas K Ambucay, Training Officer; the said training also aims to develop the personnel's ability to self-rescue and save others during natural calamities, accidents, and emergency situations. "The training will also boost and enhance the interoperability of different rescue units in the province."  
Meanwhile, Lieutenant Colonel Enrico Gil C Ileto, Commanding Officer of 84IB emphasized the  importance of disaster response training because of the rapid changes in environment and that uniformed Personnel have the capability to respond rapidly at any natural and manmade calamities. 
MGen Andrew D Costelo, Commander of 7th Infantry (Kaugnay) Division on the other hand, commended all the participants who finished the training and reminded them to apply the information they have acquired. "With the challenging role that we are doing in the community, knowledge like this is very useful, I hope that all of you will be efficient in times of disaster, especially in saving lives of others."