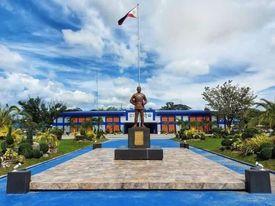 Camp Olivas, City of San Fernando, Pampanga – In a momentous step toward enduring peace and reconciliation, eight (8) former rebels, who had been embroiled in armed conflict with the government, have voluntarily surrendered. This surrender represents a turning point in the continuous efforts to put an end to the prolonged conflict that has afflicted the region for years.
These former insurgents chose to lay down their arms and turn themselves over to authorities in Bataan, Olongapo, Tarlac, and Pampanga. Notably, among them were former members of the Communist Terrorist Group (CTG) associated with Anakpawis Bulacan Chapter, Gabriela, Bagong Hukbong Bayan and UGMO (Underground Mass Organization).
This event serves as a testament to the effectiveness of the government's reconciliation programs, which have been in place for years. These programs have been dedicated to offering former combatants alternative opportunities for a brighter future and a successful reintegration into society. The government has firmly committed to supporting the rehabilitation and reintegration of these former rebels into society, ensuring they have access to education, job training, and various essential services.
PRO3 Regional Director PBGEN JOSE S HIDALGO JR said that while the path to lasting peace is a work in progress, there is no doubt that the decision of these former rebels to withdraw their support from their previous groups is a significant milestone in the ongoing journey toward stability and prosperity for the people.