Some 74 railway professionals under the cadetship program of San Miguel Corporation's (SMC) Metro Rail Transit-7 (MRT-7) project recently completed their mandatory training under the Philippine Railways Institute (PRI), a vital step towards ensuring that the soon-to-be-operational mass transit system provides a seamless and enhanced commuting experience for countless Filipinos.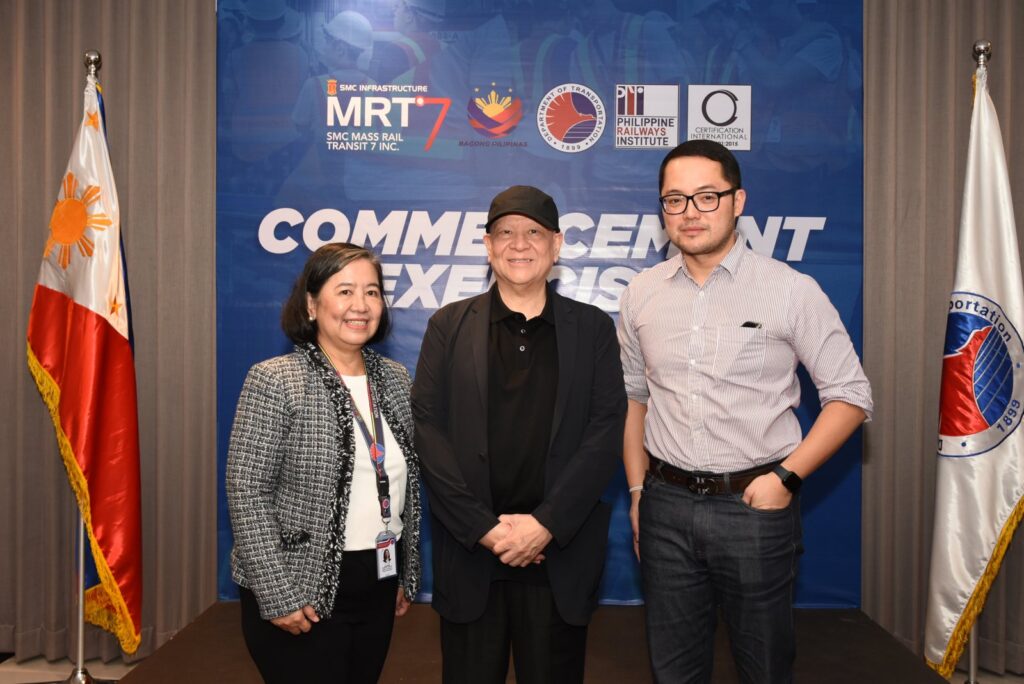 The Fundamental Training Course (FTC), which began in July, was structured to provide the cadets with specialized skills and expertise. This rigorous preparation aims to meet the high standards required to handle the sophisticated operations of the MRT-7, set to revolutionize urban transit in the country.
In July this year, SMC separately sent 40 cadets to Seoul to train under KORAIL, South Korea's leading railway operator and the conglomerate's technical partner. They completed their training in September.
SMC President and CEO Ramon S. Ang congratulated the cadets for completing the course under the guidance of PRI experts during the commencement exercise held at the SMC head office complex.
"The MRT-7 project is not just about infrastructure, it's also about people. And your duty is not just to operate a mass transit system, but to serve Filipinos daily, embodying the San Miguel culture of malasakit," Ang said.
"That is why your training is among our top priorities. We always have to be at the top of our game, because what we do will make a big difference in the lives of so many Filipinos," he added.
Speaking on behalf of Transportation Secretary Jaime Bautista, Undersecretary Paul Yebra hailed the graduates for proving their worth as railway professionals, who are now certified to "safely operate these multimillion-peso" facility and equipment.
"It is our goal that the graduates of the PRI FTC will put their skills and knowledge to use and help the government provide comfortable, accessible, safe, sustainable and efficient rail travel experience," said transportation undersecretary Paul Yebra.
"As these graduates embark in the next chapter of their rail career, they should stay focused on the sector's goal of upgrading our railway standards through human resource competency development," he added.
The graduates received their certificates from Yebra and Undersecretary Anneli Lontoc, executive director of the PRI, who likewise extended her commendation to the trainees.
"Today you stand on the cusp of a remarkable journey in the realm of railways, a sector that is rapidly evolving and expanding. You have shown unwavering determination to acquire the competencies required to operate and maintain our railway system," Lontoc said.
Of the 74 cadets who completed the FTC Cycle 7, 27 of them graduated from the railway engineering program of state-run Polytechnic University of the Philippines (PUP).
One of the cadets who graduated from PUP's railway engineering program is Chrystelle Mhae Ibarreta, who topped FTC Cycle 7. Reflecting on her journey as a Filipino railway professional, Ibarreta said she felt her choice to pursue railway engineering no longer seemed to be an accident.
"At first, I chose the program because it had many slots available, and I was not able to join the program I wanted. But looking back, I found my purpose, and the cadetship program always reminded me that what I experienced was all worth it," she said.
She expressed gratitude to Ang for opening the cadetship program to fresh graduates because it gave them an opportunity to become a railway professional just like what they studied in college.