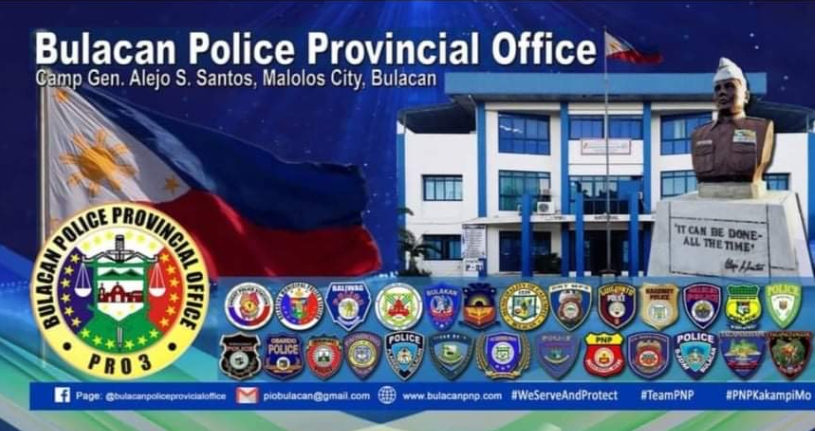 Camp General Alejo S Santos, City of Malolos — On December 28, 2022, the Bulacan Police Provincial Office nabbed four (4) alleged drug dealers and two wanted persons in separate police operations.
In a report to Col Relly Arnedo, Provincial Director, Bulacan PPO, the joint buy-bust operation by the Philippine National Police-Drug Enforcement Group (PNP-DEG) Special Operations Unit (SOU3) as the lead unit, and the operatives of the Malolos City Police Station at Mojon, Malolos City, Bulacan on December 29, 2022, about 1:00 A.M., led to the arrest of a suspected drug dealer from Brgy Kamalig, Mecauayan City, identified as Miguel Ignacio a.k.a. Ampie, 28 years old. Confiscated were nine (9) heat-sealed clear plastic sachets of suspected shabu with an estimated weight of more or less 10 grams and a Dangerous Drug Board (DDB) value of ₱68,000.00, a cellphone, a combination of black and red motorbike, and buy-bust money.
Likewise, three drug personalities were arrested as a result of separate drug busts in the towns of Plaridel and Bustos. They were identified as  Monica Mae Madrigal alias Em-Em, 33, of Brgy. Agnaya, Plaridel;  Charlie Dalisay alias Charlie, 49; and Edilberto Ramos Jr alias Edel, 53, both of whom are from Brgy Bintog, Plaridel, Bulacan. Eight (8) suspected shabu sachets, a motorbike, and money from drug busts were all seized.
All of the arrested suspects were brought to the Bulacan Provincial Forensic Unit for the appropriate examination, and currently, criminal complaints are being prepared against them for filing in court.
Meanwhile, in a separate operation, the tracker team of the CSJDM Police Station arrested two (2) persons wanted by the law by writ of a Warrant of Arrest. They were identified as  Albert Jan Bernardo, 24, of Brgy. Muzon, CSJDM, Bulacan. He was arrested for four  charges of violating Article 294 of the RPC (robbery against or intimidation of a person) in relation to Section 6 of RA 10175, while a certain Alias Roy, 34, of Brgy. Muzon, CSJDM, Bulacan, was arrested for violating Section 48 of Republic Act No. 9003, also known as the Ecological Solid Waste Management Act of 2000. The apprehended suspects were temporarily under the custody of SJDM CPS custodial facility.
Bulacan Police is stern in its intensified crackdown on illegal drugs and will not relent until the last distributor of this societal hazard is apprehended, as is the person wanted by the law.