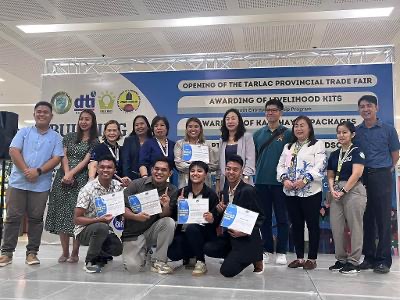 TARLAC CITY (PIA) — A total of five budding young entrepreneurs from Tarlac dominated the Regional Youth Entrepreneurship Program, Be Your Own Boss (YEP BYOB). 
The four-day YEP BYOB, which is an enhanced curriculum of the YEP program of Department of Trade and Industry (DTI), was participated by about 28 youth from the different provinces of Central Luzon.
DTI Tarlac Senior Trade-Industry Development Specialist Ana Marie Tabamo said it aims to improve the soft skills of youth by equipping them with business skills.
YEP BYOB follows a standardized course outline with four business modules and a total of 19 topics. 
Tabamo explained that the agency helps in stirring the interest of young people to venture into business, and to realize their full potential as entrepreneurs. 
"We aim to develop and support more young entrepreneurs with this program," she said. 
During the Business Pitch Competition, the Nuestra Tarlaqueña Store, a religious item business, of Omar Flores (Tarlac) and Estephanie Cava (Zambales) bested other participants.
As an incentive, DTI Tarlac awarded P5,000 cash to Flores to assist him in expanding his business. 
Meanwhile, Shekinah Ramos and Kris Angeles, both from Tarlac, received P3,000 each from DTI, after placing second in the competition for their household essentials dubbed as Sherah Variety Store. 
Completing the roster of winners from the province are Jaja Quindiagan and Jarryd Mark Cortez, who each received P2,000, after their J's Street Takoyaki claimed the third spot. 
Additionally, the Philippine Chamber of Commerce Inc. Tarlac turned-over P10,000 cash to each YEP winner in support of the improvement of their businesses. 
For her part, Provincial Cooperative and Enterprise Development Office Head Marvi Dela Cruz underscored that the provincial government of Tarlac is ready to help entrepreneurs, particularly budding ones, develop, generate income and employment, and contribute to the local economy of the province. 
"We hope that you will get inspired by the success stories of our existing micro, small and medium enterprises because you are the next generation of entrepreneurs in the province," she said.
YEP, BYOB! was organized in partnership with United States Agency for International Development and Education Development Center.
SOURCE: Trixie Joy B. Manalili PIA3