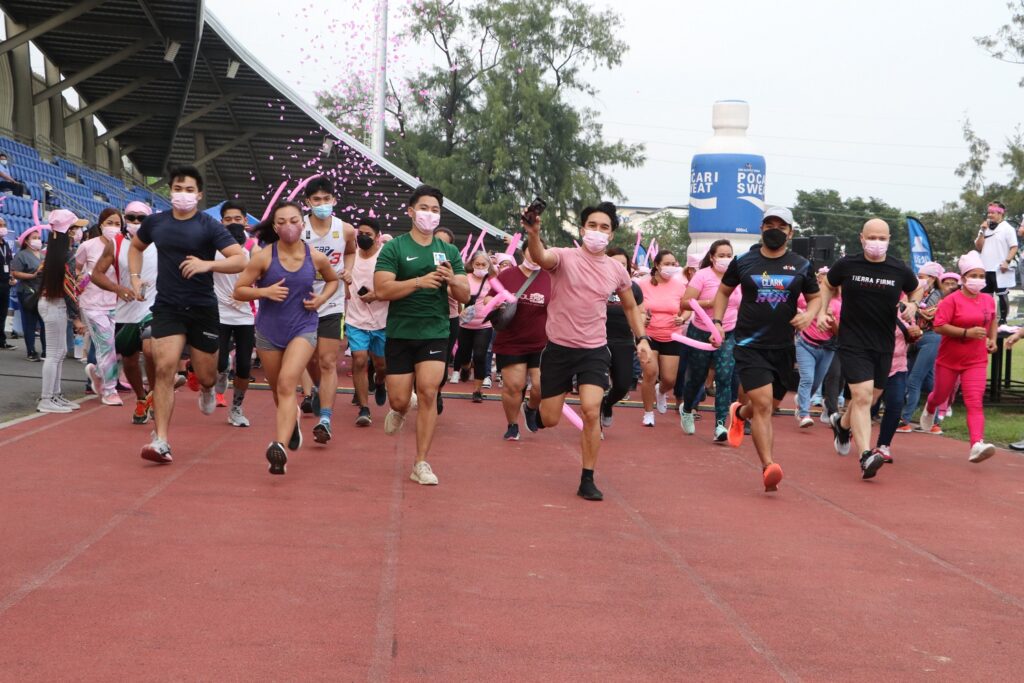 SUBIC BAY FREEPORT—Close to 400 Subic Bay Freeport and Olongapo City stakeholders joined the Pink Run 2022 to show support to breast cancer awareness, which happened last October 21, Friday. 
Dubbed as "The Pink Run 2022–D'Feeting Breast Cancer" was organized by the Philippine Society of General Surgeons (PSGS)-Central Luzon Chapter, the Olongapo City Medical Society (OCMS), Philippine College of Occupational Medicine (PCOM), and the Subic-Olongapo Cancer Foundation (SOCFI) in collaboration with the SBMA Gender and Development. 
Subic Bay Metropolitan Authority (SBMA) GAD Focal Point System (GFPS) Executive Committee Head Amethya Dela Llana was hands-on in welcoming the organizers, participants and event partners on behalf of the SBMA Chairman and Administrator Rolen C. Paulino. 
"On behalf of Chairman Paulino, we would like to thank the organizers and participants for having the breast cancer awareness activity here. And we have agreed that from here on out, the breast cancer awareness event will be hosted here in the Subic Bay Freeport.  This said signature project will be included in the Tourism and GAD calendars annually," Dela Llana announced. 
Men and women participants in the Pink Run 2022 either wore pink shirts, pink bandanas, pink face masks, pink caps, pink pants, or pink shoes. They represented various Freeport locators such as Lindberg, Sanyo Denki Philippines, Wistron Infocomm Philippines, Nidec Subic Philippines Corporation, Brookes Aesthetic and Wellness Center, and Victory Gym. SBMA employees and Subic Bay Multipurpose Cooperative members also joined. 
Olongapo City contingents included Batang 'Gapo Riders Club (BGRC), Metro Subic Colleges, Philippine Dental Association (PDA), Ridon St. Jude Medical Center, Sunlife, James L. Gordon Memorial Hospital (JLGMC), Olongapo City National High School (OCNHS) Batch 75, Olongapo City Police Office (OCPO), Lion's Club District 301, Rotary Club of Downtown Olongapo (RCDO), Rotary Club of Subic Pearl (RCSP), and National Mapping and Resource Information Authority (NAMRIA).
PSGS-Luzon chapter vice president Dr. RJ Manzo, who was in the forefront of the event organizing committee, recalled that breast cancer awareness was last held in 2019 before Covid-19 pandemic broke. 
He added that before pandemic, it was celebrated with a unity walk then forming a human pink ribbon.
"So now that we are coming back to the new normal, playing safe. But we are trying to ease back the activities that we used to do. So this year, after a two-year absence, we are back," Dr. Manzo said. 
He reminded that October is breast cancer awareness month, and that the Pink Run 2022 brought them all together to celebrate breast cancer patients, cancer survivors, and all womenfolk suffering from the big C, because women are more prone to breast cancer. 
"But truth be told nowadays, cancer is beatable. We can prevent cancer with early screening," he assured. 
Hosted by DJ Tommy G of 89.5 Subic Bay radio and Dr. Karl Edejer, a pain management specialist, the program was highlighted by the warm-up stretching led by Victory Gym coaches. 
Meanwhile, the coaches and athletes of Crossfit Olongapo City spearheaded the first wave of runners, leading the participants around the Remy Field oval track.
Capping the event was the iconic forming of the human pink ribbon. 
In other parts of the country, Pink Run 2022 was also celebrated in Bacolod, General Santos City and Dasmariñas, Cavite with a lap run. 
In Bohol, a non-profit organization launched a long distance run in various distances as a fund-raising campaign for the benefit of breast cancer patients and other indigent beneficiaries. Participants were given the choice to run in 3, 5, 10 and 16 kilometers. 
The Pink Run is a project of the PSGS, a national event celebrated annual in October in observance of the Breast Cancer Awareness month.