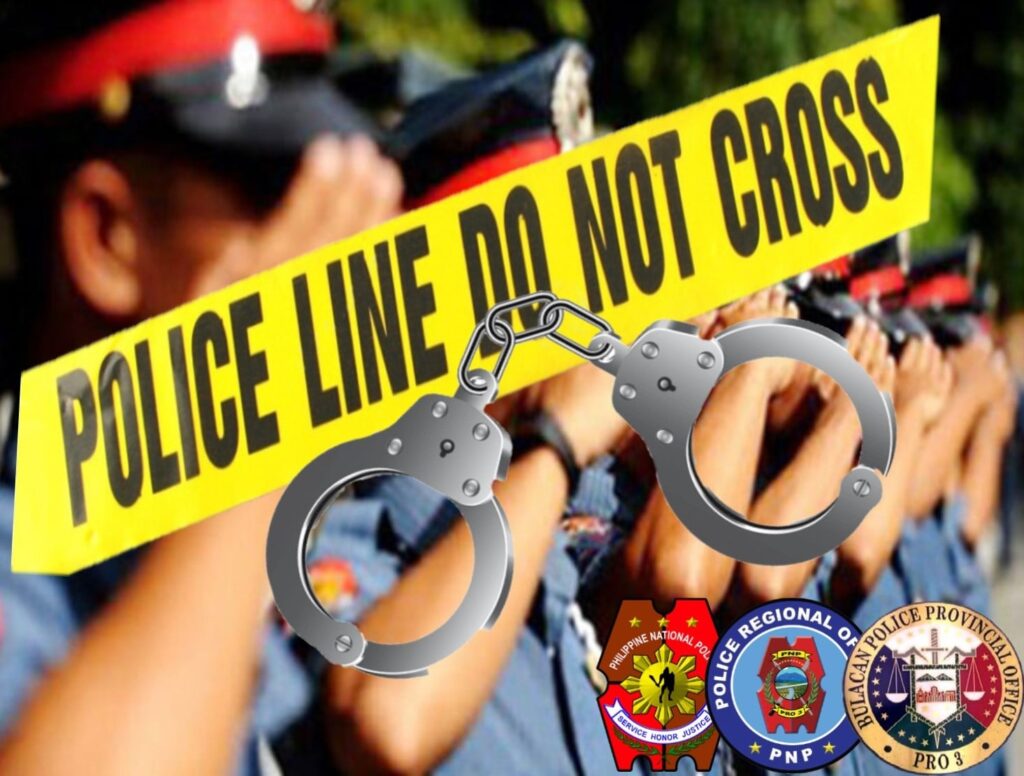 Camp Gen Alejo S Santos, City of Malolos, Bulacan — Thirty-seven law violators and wanted felons were arrested during operations of the Bulacan PNP on Friday and early today on Saturday.
PCol Relly Arnedo, PD Bulacan PPO, said, intensified manhunt operations against wanted persons arrested twenty-five (25) wanted individuals with court-issued warrants of arrest.
Tracker teams of Bulacan 1st and 2nd PMFC, Norzagaray, San Ildefonso, Balagtas, Bocaue, San Jose Del Monte, Meycauayan, Bulakan, Baliwag, Marilao, San Miguel, Malolosand Pulilan arrested Rebenson Chua, Top 1 Most Wanted (Municipal Level) and Number 6 Most Wanted Person (Provincial Level) for violation of RA 10591 or the Comprehensive Firearms and Ammunition Regulation Act, Perimar Molo for two (2) counts of Sexual Assault in relation to RA 7610, Pedro Imperio for three (3) counts of Rape, Edgardo Datus for Reckless Imprudence Resulting to Serious Physical Injuries, Christopher Ian de Leon Javier for Grave Threats, Jonard Petilla for Acts of Lasciviousness, Mario Masigal Jr for Disobedience and violation of RA 10054, Angelito Santiago for Qualified Theft, Jeffrey Pacheco for two (2) counts of violation of RA 9262, Joseph Villagrasya for violation ofSection 5 and 11 of RA 9165, Marvhete Manio for violation of RA 7610, Alfredo Marron and Fernando Dela Cruz for Estafa, Renante Sumera and Aldrin Altre for Theft, Elias Agustin for Serious Physical Injuries, Roger Valderama for violation of RA 11332, Erlindo Arnado Jr for the crime of Rape, Alberto Villavicencio, Alfred Balintoza and Reynald Blanco for the crime of Robbery. All arrested individuals are presently under the custody of the arresting station for proper disposition.
On Bulacan PNPs campaign against illegal drugs, five (5) drug dealers and users were arrested after a series of anti-illegal drugs operations conducted by the Station Drug Units (SDEU) of San Jose Del Monte, San Ildefonso, Balagtas and Marilao City Police Stations. Arrested were Zoren De Leon, Eduardo Matabang, Teddy Bropas (Included in PNP-PDEA Unified watchlist), Marco Cahilap and Reynante Delrosario.
Confiscated were twenty-four (24) sachets or 9.86 grams of suspected shabu with a standard drug price of sixty-seven thousand forty-eight pesos (Php 67,048.00), marked money, and drug paraphernalia.
All accused and confiscated pieces of evidence were brought to the Bulacan Provincial Forensic Unit for appropriate examination, while an appropriate criminal complaint against all the arrested suspects is now being prepared for filing in court.
Meanwhile, Bulacan 2nd PMFC and Meycauayan police's anti-illegal gambling operation arrested Michelle Molina, Netor Nuñez, Ronaldo De Guzman, Erickson Gregorio, Rowena Ramos, Fortunata Zuñiga and Joseph Deriade. The arrested suspects will be charged for violation of P.D. 1602, or the Anti-Illegal Gambling Act.