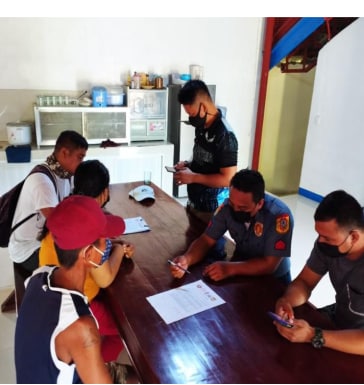 FORT MAGSAYSAY, Nueva Ecija — Due to the continuous  call and unending efforts of the government to the remaining organizations to sever their ties with the Communist Terrorist Group, three active members of the Alyansa dagiti Manalon iti Ilocos Norte (AMIN), a CTG-affiliated Farmers Group recently withdrawn their support to the terrorist organization.
 
According to MGen Andrew Costelo PA, Commander of the 7th Infantry (KAUGNAY) Division, Philippine Army, the three personalities have voluntarily executed their Oath of Allegiance to the government, expressly and boldly condemned the twisted and deceptive ideologies as well as the unlawful acts of the terrorist organization.

Their withdrawal of support to the CTG was made successful through the joint efforts of the 24th Infantry (WILDCAT) Battalion, Philippine Army, under the operational control of 5ID, PA, Currimao,  Badoc, Pinili MPS, Paoay Municipal Police Stations, CIDG Ilocos Norte RMFB 101st Company, 104th INMARPSTA, CGIG-NWLZN, 2nd INPMFC and HPG Ilocos Norte.
 
He identified the AMIN members as Rielito Agcaoili, 47 years old; Jenalyn Yate, 30 years old; and Jorel Yabes, 29 years old, all residents of Brgy Victoria, Currimao Ilocos Norte.
 
"These three have admitted that they were victims of the wrong ideology and unlawful deeds of the CPP NPA NDF through deception and intimidation. And we are happy that they were able to realize that. On the part of the Army, we are doing our best to prevent this kind of CTG activity from victimizing innocent people. Kaya naman pinapalakas pa namin ang aming Information Drive kontra sa teroristang grupo upang wala na silang ma biktima lalong lalo na sa kanayunan," said MGen. Costelo.
 
Relatedly, the Commanding Officer of 24IB, LTC Ricardo Gary Garcia III, said that the withdrawal of support of the three AMIN members is another accomplishment of Executive Order No. 70.
 
"This is a welcome development and a commendable accomplishment as a result of the efficient and effective implementation of Executive Order No. 70 or the whole-of-nation approach to end the local communist armed conflict," said LTC Garcia.